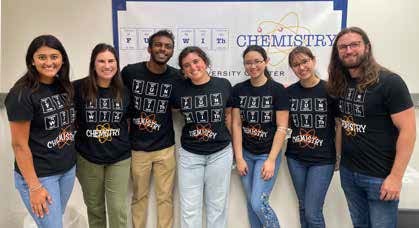 Since its founding in 2017, the Fun with Chemistry chapter at Rice University has performed more than 50 chemistry demonstrations in the Houston area, encouraging students to get excited about chemistry and pursue science careers.
The group works with students from kindergarten to high school throughout the Greater Houston area, inspiring young minds from all backgrounds and ages. Graduate and undergraduate students volunteer to visit Houston schools and at community outreach events to perform engaging experiments for students who may benefit from increased exposure to hands-on science.
Most recently, the group collaborated with NASA to perform at the John F. Kennedy 60th anniversary celebration Sept. 12, reaching thousands of HISD students. From witnessing a giant, glittery elephant toothpaste mixture shoot out of an Erlenmeyer flask, to seeing an oscillating clock change colors over and over again, the students can see for themselves how classroom learning can be applied in the real world. As each experiment is performed, students are encouraged to think critically, collaborate with their peers and actively participate in the conversation.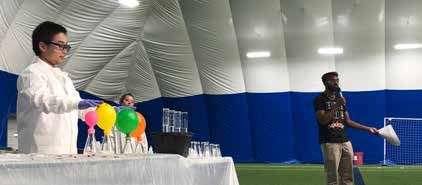 The group consists of student volunteers from all over the country and world. Together, they are extremely passionate about inspiring the youth and are driven to help students and educators delve into their love for science. A key goal of Fun with Chemistry is showing the vast diversity of opportunities within the field of chemistry and to visibly demonstrate to women and underrepresented minorities that science is within their reach.
"I was drawn by the opportunity to inspire younger kids in chemistry, especially younger girls who feel like they don't fit into STEM," sophomore Kareena Patel said. "As a first-generation STEM major, I want to be an encouraging force in these kids' lives, and if along the way I can change even one kid's perspective on STEM, then it's a success."
As a first-generation STEM major, I want to be an encouraging force in these kids' lives, and if along the way I can change even one kid's perspective on STEM, then it's a success.
— Kareena Patel
In addition to outreach and community events, the group's volunteers also support continuing education and professional development of local educators. The group engages with teachers as they create excitement in the classroom, rekindling their love for science and broadening their curricula by using economical hands-on demonstrations and networking with other educators.
Last spring, Fun with Chemistry hosted a free workshop for eight educators. In July, the group worked with 25 teachers through the ConocoPhillips Rice Elementary Model STEM Lab, sharing some of the group's favorite classroom experiments, including density towers, red cabbage indicators and non-Newtonian fluids. These workshops give Fun with Chemistry volunteers an opportunity to learn more about how students connect with science in the classroom and how they can better support educators and students alike.
Funded by the Welch Foundation, Fun with Chemistry is under the guidance of faculty mentors László Kürti, Rice chemistry professor, and Kasey Leigh Yearty, assistant teaching professor in the Department of Chemistry.
Looking forward, the group has a full slate of events in 2023 as it plans to expand outreach efforts. To learn more about the program, please visit ricefunwithchem.com or connect on social media (@ricefunwithchem).
Madeline Belknap '25
Isha Khapre '24
Hannah Lloyd '25