Andrea Galindo believes that music has been in her life forever. As a child, she used to sing in the car on family trips and was part of her elementary school choir. She sang all the time on her own but never received formal voice training.
It wasn't until college that Galindo's musical talent fully manifested itself. She went to Paris for her sister's wedding and as a gift, she sang to her. That one simple, generous act unlocked Galindo's musical destiny. Musicians from South America attended the reception and were taken with her beautiful voice. "They said to me, 'Hey, you have a real nice voice. How about if we record something together.'"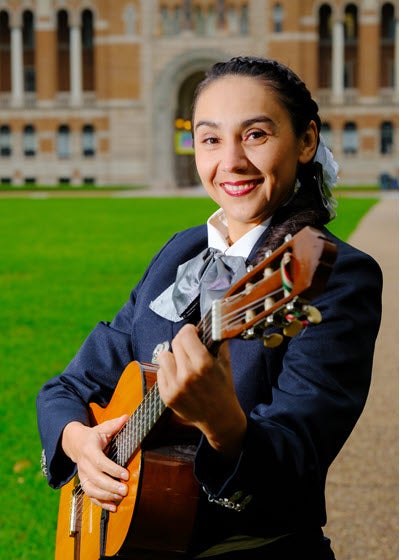 Shortly thereafter, they recorded "Jaras y Tule," a Spanish CD that contained 12 traditional Mexican songs, including "Bésame Mucho," "Cucurrucucú Paloma" and "Sabor a Mi." When Galindo returned to her native country of Mexico, she recorded another CD, "Lagos de Agua Ardiente," with the help of the University of Guadalajara, her alma mater. Galindo composed several of the songs on this recording and sings with a smooth and soft voice about love and betrayal and longing for her lover.
Now at Rice University, Galindo works as a pre-award specialist in the Office of Sponsored Projects and Research Compliance, where she continues her musical endeavors as the lead singer for Rice's Mariachi Luna Llena, a group that has garnered a host of awards and recognition and coverage from local, national and international news organizations.
Mariachi Luna Llena has become a campus favorite and highly sought after in communities around Houston, where the band performs regularly at weddings, quinceañeras, birthday parties, receptions, conferences, retirement homes and funerals. The group has played the national anthem for the Houston Astros, the Houston Rockets and the Rice baseball team and performed at the Houston Livestock Show and Rodeo, the Mayor's Hispanic Advisory Board reception and at an international music festival in Peru.
The 15-plus member band has continually given back to the university and city and regularly welcomes new musicians. Each year, they offer a free concert at Rice. This year they celebrated their 10th anniversary with a huge musical event in April. They also have played at Blackshear Elementary, Poe Elementary, the Carnegie Vanguard High School International Festival, the Children's Museum and Lanier Middle School, where Galindo serves as a mentor to aspiring mariachis.
"I also tell them that if they are of Mexican descent, they should be proud of their culture. There is no contradiction in attending an excellent university and being proud of your culture."
— Andrea Galindo
"Andrea came to our mariachi class every week and helped our guitar students on posture, form and style," said Leo Hernandez, director of bands at Lanier. "Our students loved her and look forward to having her come and help with the program."
Galindo said that when she performs for kids, she tries to spark a curiosity in them for both the music and the instruments while explaining what mariachi music is. If she is performing for adults, she talks to them about Mexican culture and how mariachi music is very rich and welcoming. "It is music based on very human emotions that we all share," she said.
"I also tell them that if they are of Mexican descent, they should be proud of their culture. There is no contradiction in attending an excellent university and being proud of your culture."
Galindo was born in Guadalajara, Jalisco, the cradle of mariachi music, and she certainly absorbed that music as she was growing up. She did not want to pursue a professional music career because she wanted to play mariachi music whenever she wanted to not because she needed to. Instead, she followed her other passion — natural science.
She received a B.S. in biology from the University of Guadalajara and an M.S. in ecological restoration from the National Autonomous University of Mexico. She then served a two-year fellowship in environmental education at Prescott College. The college placed her at a field station in Bahia Kino on the Gulf of California, where she studied wildlife and the environment, and developed a science curriculum for the local elementary and middle school.
In 2008, she came to Rice to work as a coordinator for the Center for the Study of Environment and Society. While serving as a teaching assistant, she met Alberto Rodriguez '15, who was interested in starting a mariachi group. It did not take much convincing for Galindo, who became a founding member of the group, established in 2013.
"When Andrea joined the group, I saw her as a great addition for her voice," said Mario Bencomo '17, one of the original members of the group. "Andrea's voice is the highlight of hearing Mariachi Luna Llena perform. She has a great way of emoting when she sings, through her choices in phrasing, her vibrato and especially how she engages the audience," said Bencomo, who now is an assistant professor in the Department of Mathematics at California State University in Fresno.
In recognition for "significant and sustained voluntary contributions toward the advancement of the university," Galindo will be honored by the Association of Rice Alumni with a Meritorious Service Award at the Laureates Awards Celebration in May.
Galindo said she loves helping others and giving back to the community for two reasons: No. 1, she wants to serve as a role model for her daughter, Camila, and teach her to be proud of her cultural heritage and the importance of giving back; No. 2, is that Galindo feels that it is her duty to share her talent.
"There's a lot of bad things going on in this world, and it would be selfish of me not to try to make it better. I love my culture and I want to share it with others through the gift that I have — music."
— David D. Medina
Director
Multicultural Community Relations
Public Affairs