Fifth graders from Houston ISD's Moreno Elementary had the opportunity in the fall to spend three hours on Rice's campus as college students.
The purpose of the college day event was to reward their outstanding performance during the academic year and inspire Moreno's fifth-grade students to attend college.
The school's teacher specialist, Isla Villarreal, fifth-grade mathematics teachers, Jose Dimas and Maria Perez McKee, together with the Rice University School Mathematics Project (RUSMP) team planned this visit to campus.
Rice graduate students, Norma Torres Mendoza and Eduardo Ibarra Garcia Padilla, gave overviews of their educational experiences from elementary school to college and on to graduate school. The fifth graders were very attentive and listened as Mendoza and Padilla told about the life issues that they faced in order to accomplish the goals that they set to graduate from college.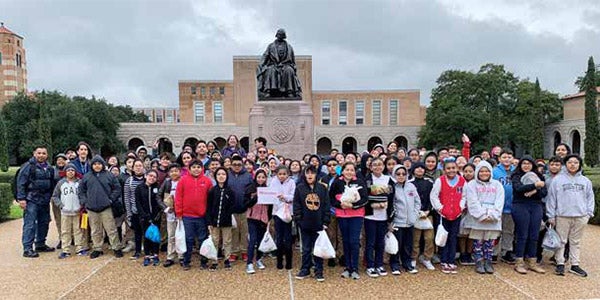 Anne Papakonstantinou, RUSMP director, gave a virtual tour of Rice University and explained the rich history of the university. Carolyn L. White, RUSMP director of mathematics programs, highlighted the math that is embedded in the architectural designs of Duncan Hall, Lovett Hall and the Sallyport. The visit provided students with an opportunity to explore the mathematics on campus and to learn mathematics vocabulary that they will encounter in middle and high school.
Students participated in a mathematics lesson in a Sewall Hall classroom. The two mathematics teachers, Dimas and McKee, saw the excitement on their students' faces as they completed a lesson on order of operations in mathematics. McKee said, "RUSMP provided a rich opportunity for our students to continue to develop the idea that math is everywhere and to think about their futures."
Brandon Mack, associate director of admissions at Rice, explained to students the steps of getting into college. Students were amazed at his story and asked him questions about his experiences as an undergraduate at Rice.
As the students departed, they expressed a genuine appreciation for mathematics around them and the importance of seeking a college education. Visiting Rice gave the fifth graders an opportunity to dream and to set goals for college.
— Carolyn L. White
Director of Mathematics Programs
Rice University School Mathematics Project