The Department of Physics and Astronomy and Rice Space Institute, along with the Ride Family Foundation and scores of sponsors and volunteers, hosted the 12th Reach for the Stars STEM Festival, especially designed for middle school girls. The fall festival was attended by 502 girls; 132 teacher or parent chaperones; and 204 presenters, exhibitors and volunteers.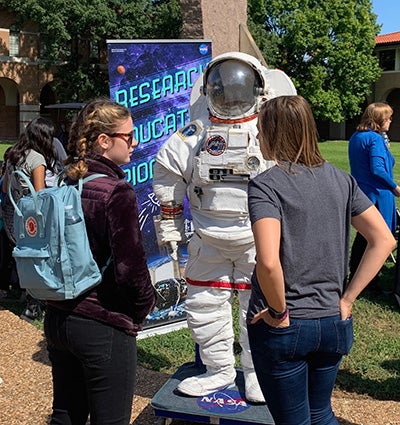 The event began with a street fair, with 28 exhibit booths covering a wide range of STEM activities. Principal sponsor Cheniere Energy had a popular booth demonstrating the liquefied natural gas (LNG) process.
Other exhibitors included NASA, Lunar and Planetary Institute, Baylor College of Medicine, Texas Space Grant, Mobile Aviation Lab, Solar System Ambassadors, Lab Rats Robotics, Houston Geological Society, American Chemical Society, Association of Women in Science, University of Houston and UH-Downtown, Costello Engineering and Celanese. Rice groups exhibiting included R-STEM, the Tapia Center, Association of Women in Math, Discovery Dome, Solar Telescope, Rice Physics and Eclipse Club.
The participants ate their sack lunches under the trees. Water and fruit were provided by Gathering of Eagles. After lunch, the girls were captivated by a keynote speech by Ulyana Horodyskyj '07, who talked about being the founder of Science in the Wild, an adventure science expedition for people interested in remote places of the planet. She also talked about being commander of the HERA II NASA Mars simulated mission. The students asked her many interesting questions about her life and experiences and about how to apply to be an astronaut.
"I really liked how she told us how we can make a difference in our own young lives," said one of the girls attending the festival. "She was very specific and told us how she did it at such a young age, and I loved how she gave this quote: 'Dreams don't work unless you do.' That really inspired me to dream big and keep working toward my goals."
After the keynote, the girls attended two hands-on workshops led by women scientists, engineers or physicians. There were 24 choices, and the girls signed up ahead of time to choose the workshops that were of most interest. Especially popular workshops were Chemistry to Dye For and Using a Cantaloupe as a Model for Epidural Placement and two sessions of Mars Rovers.
In addition to Cheniere Energy and the Ride Family Foundation, sponsors included the Transitional Institute for Space Health, NASA Space Science Education Consortium, Gathering of Eagles, Association for Women in Science, Omega Engineers, several Rice departments and friends, the dean of natural sciences and the Rice Space Institute. Over half of the participants were sponsored and attended free of charge.
The first Rice festival was held in 2006, at the request of Sally Ride, who was the first keynote speaker. For more information about the event, visit http://space.rice.edu/reachforthestars/.
— Patricia H. Reiff
Professor of Physics and Astronomy
Rice University