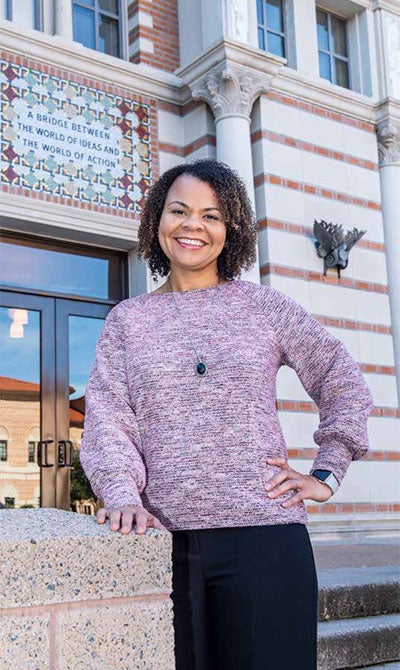 Quianta Moore knows firsthand the value of early childhood education. She grew up in Longview, Texas, in a home where education was of paramount importance. Though her working-class parents didn't have much money, they put Moore in an early childhood Montessori program and watched their child blossom into a gifted and talented student. The early investment in their daughter paid off.
Moore went on to receive three college degrees — a B.A. in sociology from Cornell University, a law degree from the University of Houston Law Center and a medical degree from Baylor College of Medicine. In 2012, she was the first student to complete a joint program between the latter two schools.
"My mother was a school teacher, my father
a truck driver, but education was always a very strong component of my home," said Moore. "They made a lot of sacrifices to make sure we got a good education." Moore has a sister and a brother, who also attended college.
Five years ago, Moore became a fellow in child health policy at Rice University's Baker Institute for Public Policy. As a fellow, she does research on the intersection of health and education and how society can play a factor in determining who is healthy and who is not. She hopes her research will shape public policies to advance the health of children, thereby increasing their capacity to do well in school. She also helps nonprofit educational institutions develop strategies to support "an equitable future for children and their communities."
Given her background, it's not surprising that Moore has done extensive research on early childhood development. According to her research, there are about 74 million children in the United States, of whom about 21% live in poverty. This means, she asserts, that kids who live in poverty run the risk of poor health and achieving little education.
"Poor health and educational outcomes could be related to inadequate brain development during childhood," she said. "A child's health and ability to learn is determined by how well the brain develops during the first years of life."
A child's brain, she continued, develops quickly between birth and age 4. "Children who grow up in healthy and supportive environments tend to develop more neural connections and demonstrate higher cognitive and socio-emotional intelligence later in life than those who grow up lacking a supportive environment."
Therefore, she said, it's vitally important that the country create policies that promote high-quality early childhood programs. She specifically recommends the expansion of the Early Head Start Program, adding more training and increased wages for child care providers and increasing federal funds for parenting classes for those enrolled in Women, Infants, Children (WIC) and Supplemental Nutrition Assistance Program (SNAP).
In partnership with the city of Houston and Harris County, Moore developed a curriculum for WIC clinics that teaches mothers the importance of early brain development and how they can become brain builders for their children. The courses discuss the role that caregivers play in fostering brain development.
"The curriculum acknowledges the challenges that many low-income families face with engaging in and spending time with their young children because of work obligations and external stress factors, so we talk about coping mechanisms for stress," Moore says.
When Moore was in her last year at Cornell University, she participated in an internship program at a charter school in Brooklyn, N.Y. The experience, she said, was transformative because it opened her eyes to the fact that health and education were closely linked.
"The experience expanded my viewpoint that health encompassed and embodied a lot more than just seeing a doctor," she said. She realized that health could affect a student's educational achievement.
With that in mind, Moore partnered with the Houston Independent School District (HISD) in 2016 and created a survey that would identify factors outside the school that influenced academic outcomes. The survey examined such factors as mental and physical health, neighborhood conditions, housing stability, emotional support and exposure to violence. HISD administered the survey to more than 100 at-risk schools, from elementary to high schools.
The survey found that a high percentage of the students at the schools that were most at risk suffered from depression, had witnessed a murder or a shooting, and did not have access to regular sources of food.
"All of these factors negatively impact attendance and academic performance," she said.
Her research gave HISD tailored data to tackle the problem. HISD hired wraparound specialists who used the information to make important decisions on how to intervene at the schools. A wraparound service is a case management system comprised of a team that includes family, community members and providers to work together to help families meet their needs.
"HISD is taking the initiative to try to address these outside factors even though it extends beyond what is traditionally expected of school districts to do, which is providing education to kids," she explained. "Now, in addition to education, they have to deal with food insecurity, depression and other negative factors."
Juliet Stipeche, director of education for the mayor's office, worked closely with Moore in the HISD project. "I was deeply impressed by Moore's policy recommendations to improve early childhood development," she said.
"Her research and approach provided me with a deeper understanding of the intersection of education and health, the importance of wraparound services and building a community schools approach."
By studying law and medicine, Moore has acquired the knowledge and experience to shape policies that help families live better lives. "I decided to go to law school and medical school to help me better understand how the legal system and health care system interface and what were the opportunities for me to contribute to making a change, to make it a fair and just system for everybody."
Though her research has now extended beyond the health care system, her educational and professional background allow her to conduct meaningful work that benefits Houston and beyond.
— David D. Medina
Director
Multicultural Community Relations
Public Affairs