Rice Emergency Medical Services (REMS) has started a community engagement initiative with the neighborhood's Girl Scout troops to provide instruction for their first aid badges.
From the young and energetic Daisies, to the focused high-school aged seniors, REMS' community outreach team has shared many smiles and laughs with scouts of all ages.
The team worked hard to develop both engaging and educational activities for the participants that were tailored to their age and abilities. Younger scouts, such as Daisies and Brownies, were led through interactive lessons about when it is appropriate to call 911 and how to do so.
The senior scouts experienced more direct, hands-on training such as how to perform basic triage, splinting and hands-only CPR.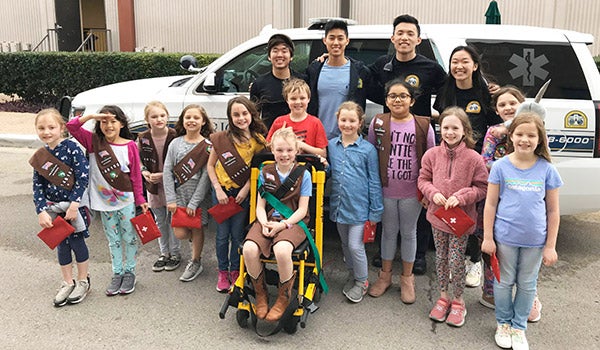 Throughout the course of this academic year, REMS has been grateful for the opportunity to work with the local troops several times. The leadership team is glad to have established these relationships with the local Houston community and hopes to develop them even more in the future.
REMS is committed to supporting the entire university community. From responding to fellow students during the late hours of the night to providing coverage at large events, REMS is a dedicated force of over 60 undergraduate students seeking to serve the community they love.
Part of REMS' mission is to provide the Rice community and surrounding areas with the knowledge and skills on how to save a life. The outreach team always aims to make learning these important skills both accessible and entertaining, and REMS hopes that their short skits and emergency-vehicle tours created lasting memories for the local scouts.
Finally, and perhaps most important, REMS is proud to say that all of Houston can now count on these Girl Scouts to act quickly and effectively in the case of an emergency.
— Noah Choi
REMS Public Outreach Coordinator
— Norman Zheng
REMS Clinical Education/CPR Lieutenant