In recent weeks, the COVID-19 pandemic has turned much of our world upside down. The true cost is painfully apparent, but there are hundreds of other implications that are affecting us all. One that has been at the top is the way that this situation has impacted our schools.
The Susanne M. Glasscock School of Continuing Studies has been doing its part to ensure teachers, parents and students have resources to transition to online modules through OpenRICE, an initiative offering relevant and timely expertise and insight, free and online. With the state of Texas and many other states suspending in-person instruction for the remainder of the school year, the Glasscock School is turning their attention to the next area of impact.
The school typically offers a multitude of summer learning opportunities for both teachers and students. With Rice canceling all campus-based summer programs, the school has had to re-evaluate plans and cancel many scheduled programs. One outlier, however, is the Advanced Placement Summer Institute (APSI). The school's Center for College Readiness (CCR), hosts one of the largest APSIs in the country. Now in its 26th year at Rice, these weeklong intensives provide required professional development to AP teachers. APSIs have never been hosted online, but the current situation has been the impetus for change.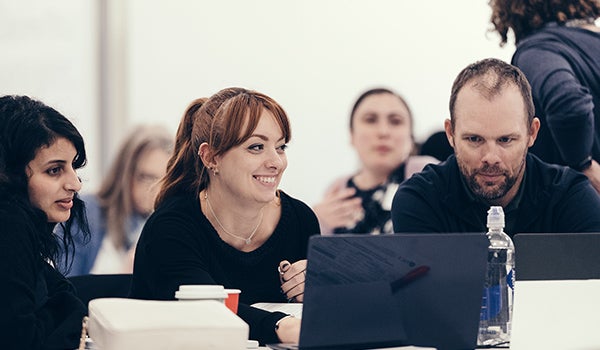 The College Board has taken the unprecedented action of allowing APSIs to offer their sessions online. "As schools and communities navigate the unprecedented challenges posed by the coronavirus (COVID-19) outbreak, the health and safety of educators and students are the AP program's top priorities."
Allowing APSIs to take place online is just one hurdle in the race to prepare for summer. Moving course work online is a daunting task. As such, many institutions have chosen to cancel their APSIs. This has left a gaping need that the CCR is hoping to fill. The center will facilitate 60 courses online this summer, each constituting 30 hours of instruction in a mixed synchronous and asynchronous format. This allows teachers from around the world to receive critical training while also maintaining the health and safety of everyone involved.
"New and experienced AP teachers need and value the AP professional development offered by the center each summer," said Jennifer Gigliotti, senior associate dean for the Glasscock School. "We were so pleased to be able to convert our traditional, campus-based workshop to an online delivery model, so that teachers can receive the training they need this summer in order to successfully execute their AP courses in the fall. Now, more than ever, educators need strong professional development and communities of practice to ensure their students are able to master content in this uncertain time."
— Bret Newcomb
Senior Marketing Specialist
Susanne M. Glasscock School of Continuing Studies