Have you ever pointed a flashlight at your hand? If so, it's pretty easy to notice that light can travel through the human body. A team of researchers led by Rice University scientists have been using this procedure to develop wearable microscopes that noninvasively help in diagnosing and monitoring health conditions that today require a biopsy or blood test.
This groundbreaking research, known as Expeditions in Computing, is not only taking place in the Rice lab of Ashu Sabharwal, professor of electrical and computer engineering, it also is making its way to classrooms in the Houston community.
Using lessons and activities based on this research, the Rice Office of STEM Engagement (R-STEM) staff members visited Sam Houston Math, Science and Technology Center High School to engage a group of young men in the Urban Scholars Program on campus.
The Urban Scholars Program aims to provide male youth of color with opportunities to advocate for themselves and their communities. The students participate in culturally relevant curriculum and receive academic support. The program is part of the Social Justice Learning Institute based in Inglewood, California.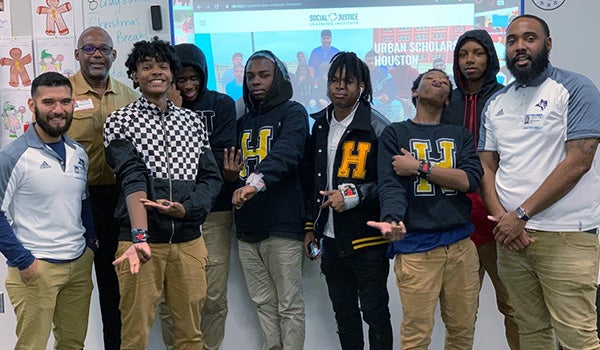 To engage these high school students culturally and academically, the R-STEM team had a series of meetings this spring, building relationships and discussing various issues that impact their community.
The students were then introduced to the Expeditions in Computing research by reading various articles and discussing health care concerns that disproportionately affect their families and people in their neighborhoods. Students gravitated to one of the lessons and chose to take on the Maker Challenge: Build Your Own Pedometer! created by Azka Bukhari, a teacher at Hogg Middle School in HISD.
Using the engineering design process, the young men brainstormed and designed potential solutions to a large problem in their community — obesity. These solutions led to students designing fitness trackers using microbits, which they programmed to count their daily steps.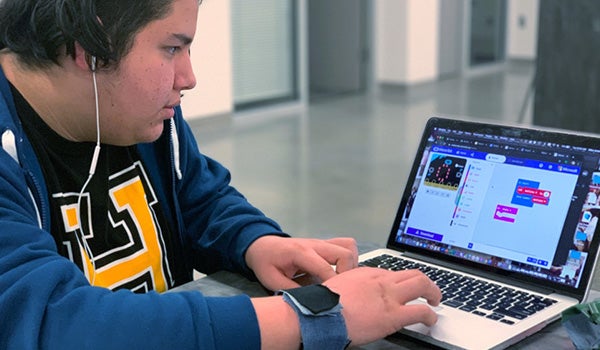 R-STEM plans to continue to engage these exceptional young men by inviting them to the Computing for Health Program. This program was designed for students to experiment and gain a greater understanding of how medical treatments are changing because of computer science and computer engineering.
Now that students are familiar with the COVID-19 pandemic, they will certainly be interested in programs that focus on solutions to medical problems. Students will have an opportunity to see how various science, technology, engineering and mathematics (STEM) disciplines can work together to meet the ever-changing demands of the medical treatment.
This work was funded by the National Science Foundation's Expeditions in Computing Engineering Research Center (ERC), whose mission is to develop a computational imaging system, called Computational Photo-Scatterography (CPS), that effectively unravels scattered light and facilitates noninvasive bio-imaging deep beneath the skin at cellular-level resolutions.
­— Allen Antoine
Associate Director for Mathematics and Computer Science
Rice Office of STEM Engagement