Despite recent school closures, more than 30 middle and high school teachers from Greater Houston and surrounding areas can now count teaching computer science among their many accomplishments.
Managed locally through the Rice University School Mathematics Project (RUSMP), the Code.org Professional Learning Program helps K–12 teachers throughout the U.S. learn how to teach computer science or "computational thinking." Many participants have no previous technical experience, just a natural curiosity and a desire to facilitate student discovery.
Teachers in RUSMP's 2019–2020 program finished the school year with impressive, outstanding implementation rates — 87% overall and 93% for scholarship recipients. For Seattle-based Code.org decisionmakers and their donors like Microsoft, Amazon and Facebook, these numbers put Rice-trained teachers in the national spotlight and garnered an award at the Code.org national summit in early March.
The Rice program also scores well with principals and other school officials. Code.org materials are available online 24/7 at no cost. The professional learning program addresses the widespread shortage of qualified teachers. Students taught by teachers in the program tend to show improvement in other subjects. In fact, acceptance into the program requires a commitment from both the teacher and the principal.
Program manager Debbie Campbell said, "When I'm at these workshops, I feel like I'm in the room with superheroes. These teachers gave up a week of their summer and up to four busy Saturdays during their school year."
She added, "Workshop leaders Alice Fisher, Astra Zeno, Djuana Bossette, Matthew Jefferson and Rachel Jones asked the participants to trust the curriculum and be open to teaching in ways they may not have taught before. Many of them walked into the summer workshop with a fear of not already having a technical background. Within a few days, though, they were taking turns guiding each other through lessons they would teach in the fall."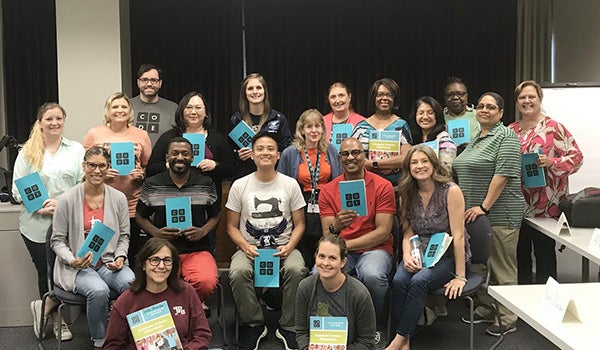 With engaging materials and teaching strategies designed for equitable access, the Code.org program offers a limited number of scholarships to schools that meet the criteria for underrepresented minorities and low socioeconomic status students. Most 2019–2020 RUSMP teachers received full scholarships from Code.org.
Even in these unprecedented times, students who have spent the school year exploring the Code.org curriculum now have a better grasp of problem-solving, persistence, communication, collaboration and creativity — what Code.org calls the two P's and three C's. These skills have been shown to improve performance in other subjects and prepare students for a variety of future careers.
To nominate a teacher for a scholarship or to invite teachers to apply for the 2020–2021 program, visit code.org/nominate.
— Debbie Campbell
Program Manager
Rice University School Mathematics Project