Valentine's Day offered more than the usual sweet treats for students at the Baylor College of Medicine Rusk Academy, an HISD middle school.
On Feb. 14, Rice University's Multicultural Community Relations (MCR) in the Office of Public Affairs partnered with Rusk to host a college and career day, which showcased Rice undergraduates, faculty, staff and alumni, and leaders from the Greater Houston community.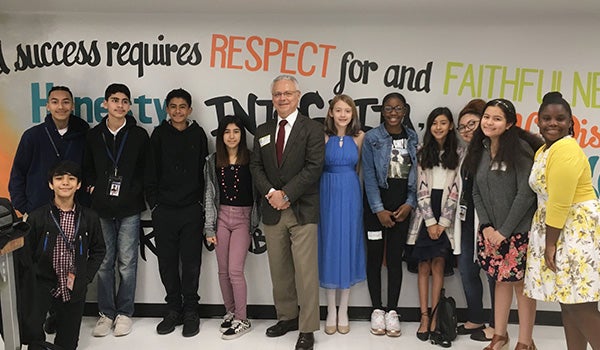 Rusk, a magnet school located in Houston's historic East End, focuses on health sciences and prepares students for careers in medical-related fields. The majority of the students at Rusk are Latino and African American — two groups whose numbers are greatly underrepresented in STEM fields.
These students also often lack access to information on the college admission process. With that in mind, Tatiana Martinez, the school counselor who helped organize the event, wanted to have presenters from a variety of fields involved in the day.
MCR invited a commercial airline pilot; a Rice engineering professor, who explains materials science in a magic-like show; members of Rice's undergraduate chapter of the Society of Hispanic Professional Engineers; a Rice alumna seeking an MBA degree; and the first female African American certified architect in Houston.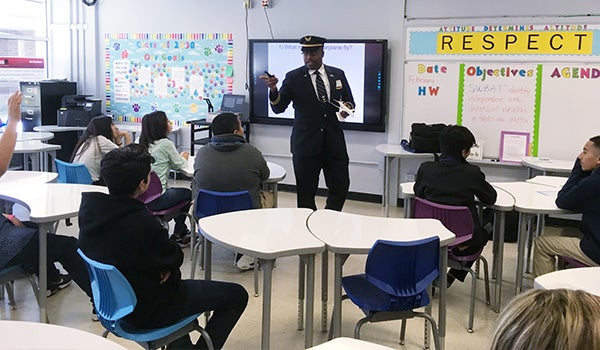 Throughout the morning, all of the school's 417 sixth, seventh and eighth graders garnered information from the 17 presenters who rotated throughout the school to share information about their careers. Students used every moment of the event to learn more about careers and to practice the art of networking with the visitors.
One seventh grader, Lauren Ann Daniels, who is part of the school's Duke Tip Talent Search program, served as an exuberant student greeter. During the morning reception for college and career fair presenters, she and other students queried the visitors about their careers and college affiliations.
When asked about her plans for the future Daniels, responded, "I want to be a pediatric oncologist. Having recently witnessed my grandmother die of pancreatic cancer, I want to be able to be able to help children who are dealing with cancer."
Presenters also shared important life messages. After describing the exciting life of flying a huge aircraft to places like Buenos Aires, Chile and Shanghai, Xavier Samuels, a pilot for United Airlines, said, "I couldn't do anything that I do without having a good education."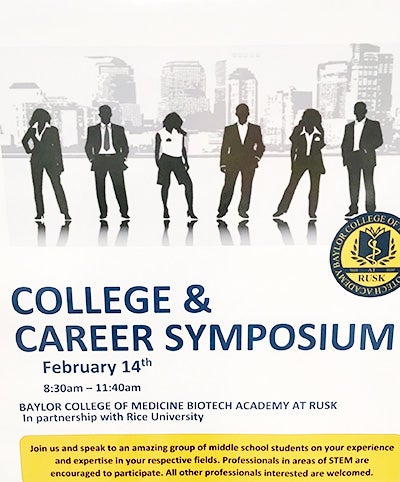 Norma Torres Mendoza '13, who earned an undergraduate degree from Rice and a master's in public policy from Harvard and is pursuing an MBA from Rice, tackled the tough task of explaining to seventh graders what she does as a business consultant.
In describing what she likes best about her job, Mendoza said, "Thirst for knowledge and the curiosity for solving problems is key for any career, not just business."
Most of the presenters will never know the kind of impact they've had on the Rusk students. But for at least one young lady, the Rice visitors did make a favorable impression. Daniels, a straight-A student, said that she is planning to apply to Harvard, Rice and a historically black college.
"Our students spent an inspiring morning and received practical tips on achieving goals from individuals who shared similar backgrounds and cultures with them," said Martinez. "We are excited about this partnership with Multicultural Community Relations and look forward to more successful events."
— Jan West
Assistant Director
Multicultural Community Relations
Public Affairs