Every summer, the Rice Office of STEM Engagement (R-STEM) brings K–12 teachers to campus to conduct discovery research, but because of the pandemic, the program went virtual.
The Summer Web-Based Institute for Technologies in CompSci and Healthcare (SWITCH) brought together six computer science educators from Houston and Austin to conduct research virtually in the lab of Ashutosh Sabharwal, the Ernest Dell Butcher Professor of Engineering and chair of the electrical and computer engineering department.
The main theme of the SWITCH RET summer research was Machine Learning for Health. In recent years, machine learning has become a state-of-the art solution for many challenging problems and if used strategically, could improve health care availability and affordability.
This idea of using computer programming to improve health care outcomes is the focal point of both the NSF expeditions in Computing and Precise Advanced Technologies and Health Systems for Underserved Populations that Sabharwal's team is spearheading.
The teachers explored gaze detection through Python programs that processed a live feed video to track the iris of the person being imaged. Under the guidance of graduate students, especially Mary Jin, teachers mastered the OpenCV library for computer vision; explored popular machine learning engines such as Tensorflow and Kaggle; and created programs that highlighted facial detection, landmark detection and emotion detection while linking these programs to creating low-cost and effective health technologies for underserved communities.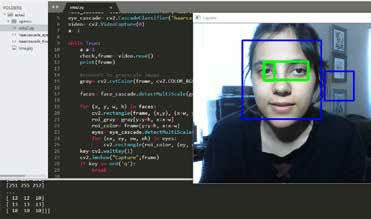 Also, various university faculty members and graduate students volunteered to share their research with the cohort. Gerard Coté, director of the Center for Remote Health Technologies and Systems at Texas A&M, gave a presentation about reliable, at-home technologies that can limit the need for hospital visits, while Kristen Antoine-Morse, assistant principal at Istrouma Magnet High School in East Baton Rouge Parish Schools, gave a talk on implicit bias and its presence in classroom settings.
Further still, Temiloluwa Prioleau, assistant professor of computer science at Dartmouth College, spoke with the group about computer scientists using various types of data to assist in the process of creating a vaccine for COVID-19. The interns were able to interact with over a dozen more speakers on various topics pertinent to their project.
During their summer virtual research experiences, interns were able to learn, engage, create and share. The topics explored were pivotal in developing engaging grade-level appropriate lesson plans that will be tested in their classrooms and have been submitted for publication in education journals.
The lessons range from students using face detection in a health and wellness context to students creating tools that can help parents of nonverbal children communicate with them.
"I have become more acutely aware of how 'powerful' research and data play a significant role in solving problems," said Azku Bukhari, a middle school computer science teacher in the Houston Independent School District.
This work was funded by both the National Science Foundation's Expeditions in Computing and PATHS-UP ERCs. The journey of the SWITCH interns can be read on their blog at https://ret2020.blogs.rice.edu/.
— Allen Antoine
Associate Director for Mathematics and Computer Science
Rice Office of STEM Engagement