The COVID-19 pandemic did not stop the Rice University School Mathematics Project (RUSMP) from offering its highly popular Summer Campus Program (SCP) for precollege teachers. The camp went virtual and successfully ran June 8–18, with the enlisted help of the Rice/NSF Robert Noyce Master Teaching Fellows (Grant #1556006).
Teachers from the Greater Houston area and beyond enrolled in the SCP and were placed into three cohorts: elementary grades 2–5, middle school grades 6–8 or high school geometry-calculus. Each cohort convened on Zoom for three hours each morning and worked individually or virtually in groups for three hours each afternoon.
Lessons were carefully planned for the online learning environment. Technology tools were selected to actively engage teachers, web-based resources for teachers to use with their students were identified (rusmp.rice.edu/resources) and techniques to develop successful communities of practice for use during SCP were discussed.
Three Noyce Fellows worked with the elementary cohort and focused on exploring number concepts in grades 2–5. Four fellows focused on developing algebraic reasoning in the middle school grades. Four fellows explored topics on how to inspire students about high school mathematics. Planning meetings for the cohorts were held using Zoom during the spring semester and daily during the SCP, and Google drives, which housed course materials, were set up for each cohort to use with their teachers.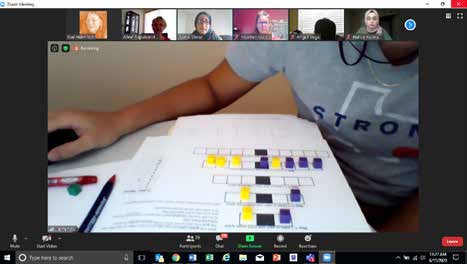 A variety of technologies and websites were used. Document cameras served as web cams, laptops allowed for modeling hands-on activities, Virtual Manipulatives and GeoGebra Geometry software facilitated construction of a Golden Rectangle and inscription of a regular pentagon in a circle. Pear Deck, Numberphile and RUSMP Symbaloos were also showcased. Teachers submitted responses and interacted using Nearpod, Kahoot!, Padlet, Flipgrid, Whiteboard.fi and via email. The use of Zoom breakout rooms was a huge hit as it provided an authentic way for teachers to collaborate.
The SCP camp has been running for 33 years and all the activities it offers transitioned seamlessly to an online environment: readings and discussions, independent and group work, lesson development, and integrated math and art activities in the elementary and middle school cohorts. Also a colloquium talk, "A Glimpse Into the World of Knot Theory," for the high school cohort was delivered by Shelly Harvey, Rice Department of Mathematics professor and RUSMP advisory board member.
RUSMP directors Carolyn L. White, Robin Ward and Anne Papakonstantinou praised the efforts, commitment and creativity of all involved — the teachers and Noyce Fellows — to make this inaugural online SCP successful. A plethora of lessons were learned by all, and the teachers felt better equipped, energized and ready to tackle the challenges of online learning this fall.
For photos from this year's SCP, please visit https://rusmp.rice.edu/about/photos-spotlights. RUSMP's Fall Networking Conference, held Oct. 3, also virtual, described the challenges and successes of online learning and showcased what happened and what was learned during the SCP this past June.
— Anne Papakonstantinou, Director
Carolyn L, White, Associate Director
Robin Ward, Assistant Director
Rice University School Mathematics Project