Rice University's Puentes Consortium was created more than 10 years ago to provide scholars with an opportunity to carry out multidisciplinary research on issues of importance to the relationship between Mexico and the United States.
In 2018, Puentes was revitalized and included among its members Rice University, the University of Miami, Monterrey Tech, the University of Monterrey and the University of las Américas, Puebla.
That year, the consortium launched a series of new programs and funding opportunities to support its goals of enhancing collaborative research among its members. Puentes funds projects that seek to increase connection between the universities in the two nations. The purpose is to create a long-term effective dialogue by building knowledge and incentivizing joint research whose findings will be communicated to leaders and decisionmakers.
Over the past 12 years, Puentes has supported international mobility for over 23 scholars and published more than 25 academic research and white papers. Puentes is now preparing the 2021 call for applications for grants and programs under remote conditions. These opportunities are available to all members of the Rice community.
Binational collaborations have already fostered invaluable experiences for the researchers and helped in moving forward the relationship between U.S-Mexico and provided knowledge transfers between the two countries.
For example, a recent collaboration project between Monterrey Tech and Rice University during the first months of the COVID 19 pandemic resulted in a valuable mapping case project. Puentes provided a grant to support a group of researchers to share their expertise by reproducing a map of COVID cases for Texas and extrapolating the same information layers to report on COVID cases in Mexico. The Mexican map was produced by Roberto Ponce from Monterrey Tech and the Texas map by Fares el-Dahdah, director of the Humanities Research Center. This academic partnership could eventually lead to a comparative study about inequality and Covid-19 between Texas and Monterrey.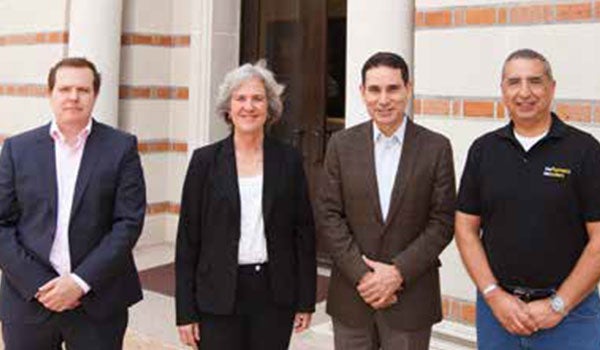 Another example was the Crime Assets and Best Practices Against Money Laundering project, in which members of the consortium participated in editing a high-level document that contained information on how to battle money laundering and organized crime in Mexico and the United States. The information in the document was gathered through a series of workshops led by Puentes scholars and representatives from financial intelligence units in the northern states of Mexico and the U.S.
The Disruptive Housing project, led by academics from Rice University's school of architecture and humanities, resulted in a workshop that focused on Mexico's collective housing practices in urban settings.
These experiences demonstrate the value of international collaborations in which hosts and visiting scholars benefit from the exchange of knowledge and the creation of research networks. The goal of this enterprise is to produce books and manuscripts written by several authors who will share the knowledge they have acquired through the spaces created by the Puentes Consortium.
For more information about the Puentes Consortium, please visit the website at www.puentes-consortium.org.
— Ivonne Cruz
Program Administrator
Puentes Consortium
Baker Institute