After a year in the making, the exhibition "Blacks at Rice: An Evolving Legacy" opened Sept. 13 at the African American Library at the Gregory School in Houston's historic Fourth Ward. More than 150 faculty, staff, students and community members attended opening night, and many were moved by the show.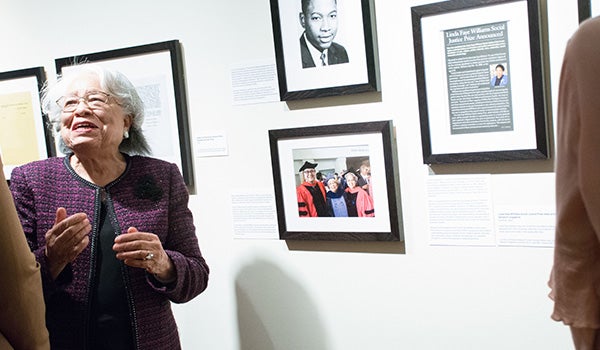 "I'm inspired by the people who have brought us to where we are today, and I thank them for their courage, bravery and contributions," said Rice University President David Leebron at the event.
"It's such a privilege to be here today," Leebron said. "This is a great time to be an owl and it may not be for me to say, but I think it's a great time to be a black owl. I say this recognizing the things that have happened in the last few years, including the appointment of Reginald DesRoches, the first African-American dean at Rice. More than 12 percent of the entering class' domestic students are African-American. A high in our history and we're making progress on our faculty, and we've set our goals high."
On display and free to the public through Feb. 23, 2019, the exhibition celebrates black life at Rice through a multimedia presentation that includes photographs, newspaper and magazine clippings; books, posters, banners and documentaries; and an assortment of alumni memorabilia. Rice will host five workshops over the course of the exhibit to further highlight Rice's black community.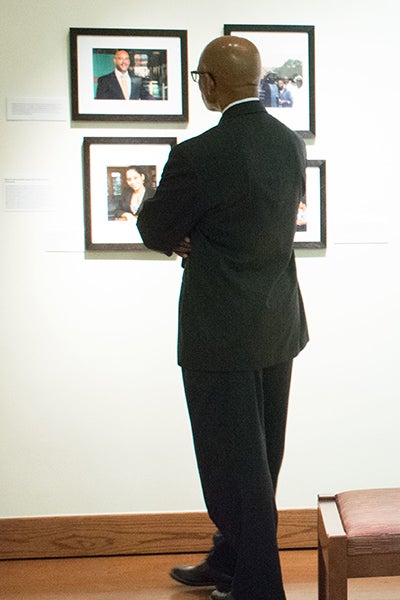 The exhibition tells the story of black life at Rice — from the university's first black athletic trainer, to the first black undergraduate and graduate students, to current students and black alumni, who are making a difference in their communities. It also recognizes all the people — housekeepers, cooks, coaches, faculty, staff and administrators — who provided a warm and supportive environment for the black students to succeed at one of the most academically rigorous universities in the country.
Raymond Johnson was the first black student admitted to Rice in 1964. Johnson was seeking a Ph.D. in mathematics. A year later, the first black undergraduates matriculated at Rice. In 2016, Rice celebrated the 50th anniversary of black life with a series of events, including a panel discussion about Rice's integration and a gala recognizing the important contributions that black alumni have made to the betterment of the world. This exhibition serves as a continuation of the 2016 50-year milestone celebration.
"The Gregory School is the third special collection from the Houston Public Library (HPL) System, and our mission is to promote and preserve the rich history of African-Americans in Houston and in the surrounding areas," said Danielle Wilson, curator and manager for HPL's African American Library at the Gregory School.
Rice University's Multicultural Relations and the Association of Rice University Black Alumni (ARUBA) in collaboration with the African American Library organized the exhibition. The show was sponsored by Lemond Kitchen, Bank of America/Merrill Lynch, the city of Houston, Houston Public Library, and Terri and Terrence Gee '86.
"At Bank of America/Merrill Lynch, we are committed to supporting education and alumni groups like ARUBA," said Derek Ward, vice president associate market manager of Merrill Lynch. "We are honored to be a sponsor of such a special event."
The exhibition is a result of more than a yearlong process of gathering memorabilia.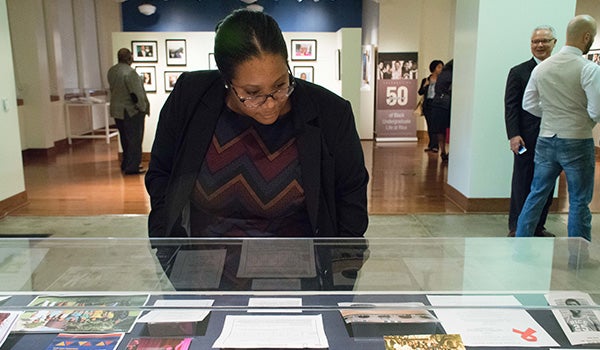 "Many bright minds came together to plan this project for all of its moving parts," said Monique Shankle '86, president of ARUBA. "Committee members reached out to their friends and colleagues to gather materials, camped out on Saturdays at the Rice Memorial Center to receive memorabilia, set up dropboxes for photos and fleshed through ideas for the structure of this exhibition."
Members of the committee included ARUBA members from across the decades, faculty and staff, including Gloria Bean, Donald Bowers '91, Alexander Byrd '90, Sharae DeWitt '16, Aurra Fellows '12, Andrea Karow, Karen Kossie-Chernyshev '85, Akilah Mance '05, June Marshall '00, David Medina '83, Rodney Norton '76, April M. Frazier Peters '11, Monique Shankle, Jan West '73 and Althea Jones Williams '75.
"The exhibit is wonderfully conceived and curated," said Terrence Gee, senior vice president of Technology and Enterprise Transformation at Coca-Cola Beverages Florida. "It tells a complex and nuanced story in a very personal and compelling way. A must see for anyone interested in the history of Rice University or the city of Houston."
"I've seen Rice and the black alumni student communities grow over the years as a former ARUBA president," said Akilah Mance, attorney at Olson and Olson LLP. "It's amazing to see all of this in a beautiful, historic space and to share our story with the Houston community is exciting."
"The exhibit is a fitting tribute to the legacy — and the potential for the future — of blacks at Rice," said Donald Bowers, vice president of the Federal Reserve Bank of Dallas' Houston branch and a member of the Rice University Board of Trustees.
"I consider myself to have a fair amount of knowledge regarding the black experience at Rice, but I learned so much more from the exhibit. Our legacy at Rice is complex and inspiring. I hope all Houstonians and especially all members of the Rice family take the opportunity to visit the exhibit over the coming months."
— Kendall Schoemann
Staff Writer
Public Affairs