Reginald DesRoches, dean of Rice University's George R. Brown School of Engineering, addressed a room full of inquisitive students who had just completed an engineering challenge.
He expressed how excited he was that their engineering problem-solving and critical thinking skills would blossom during the week. DesRoches was a guest judge at Say STEM Camp, a summer program for more than 200 students hosted by the Tapia Center for Excellence and Equity at Rice.
One of the missions of the Tapia Center is to build and support the pipeline of STEM students, with an emphasis on groups that are underrepresented. With that in mind, the center developed Say STEM Camps as a way to engage high school students in the sciences and to teach them how to work in teams and effectively communicate what they learned and to expose them to life on a college campus.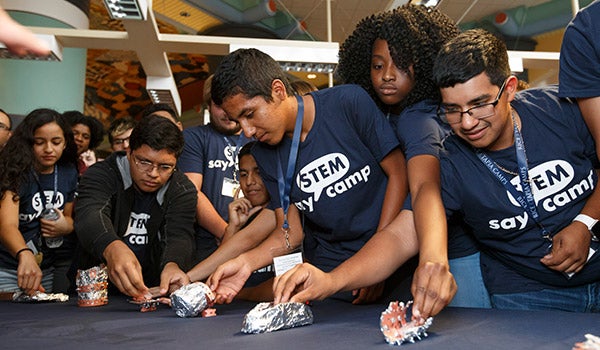 Students from across the state and around the world attended the six-day residential camps, where they solved hands-on problems, heard renowned scientists and experienced student life at Rice. A large part of the camp also focused on developing communication skills by teaching students how to explain the phenomena behind the formulas they learned.
"There's so much room for creativity in these areas, and it's so important in the professional world to be able to communicate what you discover," said Paul Hand, director of the camps and adjunct assistant professor of computational and applied mathematics at Rice. "Our goal is to give these students the best resources and opportunities to prepare them for college while simultaneously inspiring them to pursue a STEM career."
At the end of the camp, students had the opportunity to showcase their skills through visual and oral presentations as part of a competition. One student said the camp "took away all hesitations about joining a STEM field, was motivating and challenging, and offered engaging experiences and critical thinking benefits."
But students weren't the only ones who attended. More than 65 educators also explored the world of STEM and honed their teaching skills in Project Based Learning.
"This was a unique and immersive experience for educators," said Deidre Barnes, a teacher from Midland, Texas. "Teachers were given an opportunity we are seldom afforded — to take on the role of students and experience the lessons we are going to facilitate."
Since 2015, the camps have grown from 40 participants to more than 200 students and 65 teachers. Plans for 2019 include four weeks of Say STEM Camps, with special weeks for dual-language learners and students ranked in the top three of their class.
"Students and teachers alike leave our camps understanding how math, science and English can all work together to solve a real-world problem," said Ben Olsen, director of camp curriculum and instruction. "It's a wonderful thing, knowing our program is inspiring the next generation of creative innovators."