The Rice University School Mathematics Project (RUSMP) team consists of award-winning educators and researchers who are recognized leaders, compassionate collaborators and brilliant problem-solvers.
RUSMP's mission is to create a better understanding of the nature, beauty and importance of mathematics and to promote effective teaching of mathematics. The mission has expanded to support science, technology, engineering and the arts as they relate to mathematics.
"RUSMP has been key in developing the content, planning and accountability pieces for highly effective math instruction. Our students are making gains in great part due to our partnership," said Faye McNeil, the principal at Montgomery Elementary School.
Established in 1987 to provide a bridge between the Rice mathematics research community and Houston-area mathematics teachers, RUSMP has received funding from the National Science Foundation; the United States Department of Education Eisenhower and Teacher Quality Programs; and from corporations, foundations, schools and school districts. RUSMP has reached more than 12,000 K–12 students and 10,000 teachers and teacher leaders from over 100 districts and private and charter schools.
RUSMP has received many grants from such organizations as the NSF Robert Noyce Master Teaching Fellowship to develop mathematics teacher leaders in the Houston Independent School District and from the University of Texas at Austin STEM Center to provide authentic STEM experiences for high school teachers. RUSMP has also received several research grants, including one from the prestigious Spencer Foundation to study factors that affect students' motivation, achievement and future career plans in STEM.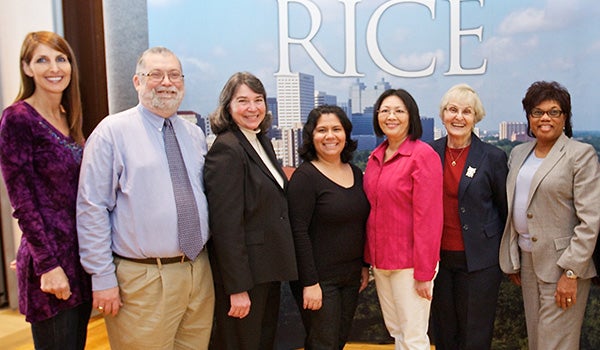 RUSMP's excellent reputation as a change agent and a trusted partner has resulted in its selection as a regional partner by Code.org, a national nonprofit devoted to expanding access to computer science education. Texas Instruments selected RUSMP to host its annual Regional Summits for teachers on the Rice campus.
While maintaining its many long-standing partnerships, RUSMP strives to develop new ones. RUSMP creates research-practice partnerships to collaborate with schools, school districts, community organizations, government agencies and corporations to address the challenges facing education. RUSMP is an integral part of the Rice community, collaborating with academic departments and centers across campus, including the Richard Tapia Center for Excellence and Equity, the Glasscock School for Continuing Studies and Rice Athletics. RUSMP also collaborates with other universities across the country.
The RUSMP approach is grounded in research that supports the belief that sustained instructional changes can best be cultivated by developing a professionalism among STEM teachers and by creating a network of teachers who have extensive knowledge of both content and pedagogy.
"After attending the RUSMP Summer Campus Program, I feel empowered to motivate my students through inquiry and discovery as a facilitator rather than an instructor," said LaSyndria Gnagbe from Burrus Fine Arts Elementary School.
To inspire and encourage students to pursue STEM coursework and consider STEM careers, RUSMP has expanded its efforts through camps and programs for K–12 students and its college awareness activities.
"The RUSMP team has had and continues to have a remarkable positive impact on K–12 STEM education across Texas and beyond," said Anne Papakonstantinou, RUSMP director. "Schools and school districts consider the RUSMP team as valued collaborators since we are willing to 'roll up our sleeves' and do the hard work necessary to help solve the problems that their schools face."
RUSMP exemplifies Rice University's Vision for the Second Century, Second Decade through its efforts to engage Houston and empower its success as well as to elevate research achievement and reputation. Richard Parr, RUSMP executive director, added, "The longevity and success of RUSMP is due to the experience, creativity and hard work of our remarkable team."
Please visit the RUSMP website at https://rusmp.rice.edu. The RUSMP team members welcome inquiries about how they may help.