What happens when Rice MBA students sit on nonprofit boards in Houston? Organizations advance critical projects, the next generation of leaders are inspired to continue long-term professional service and the community experiences positive change.
Founded in 2008, Rice Business Board Fellows is a yearlong experiential learning program that matches talented, energetic and committed MBA candidates with local nonprofit boards. Organizations gain access to the ideas and energy of future business leaders and potential new board members, while students learn valuable leadership skills and gain experience in nonprofit management and governance.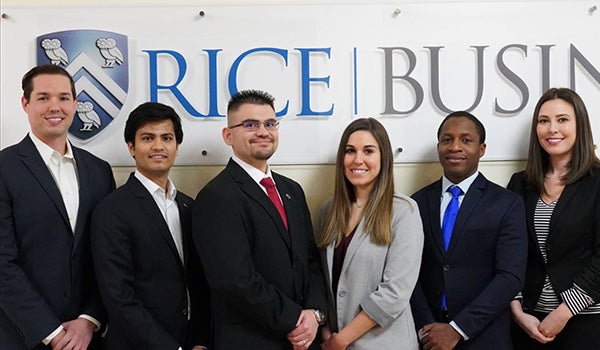 A diverse set of organizations and students participate, adding to the richness of the program. From new, working boards to mature organizations, the program continues to expand each year. This upcoming year, Board Fellows will welcome 51 new students paired with 51 nonprofits, with representatives from the full-time, professional and executive MBA programs. Based on a thorough matching process, students are matched with nonprofits based on interests and desired skillsets, such as marketing, finance, operations and strategy expertise. Participating nonprofits include those focused on women and children, immigrants, education, arts, the environment and more.
Students engage with their organizations beyond just serving on the board. Some have joined committees, planned and participated in events, and attended galas and fundraisers. For example:
Jenna Thomas, who served on the board of The Mercer Society, helped build a partnership between her employer and the nonprofit by establishing an annual volunteer event.
Rishija Misra, who served on the board of Workshop Houston, developed financial analytics dashboards to help them understand the health of their organization and plan for sustainable growth.
Heather Morgan, who served on the board of H.E.A.R.T., helped adults in the program with learning disabilities earn a paycheck by working alongside them at the Houston Open.
Hiram Gonzalez, who served on the board of Fifth Ward Enrichment Program, helped to develop the group's strategic marketing plan by tracking its social media engagement and suggesting ways to extend their reach.
Many students continue to stay involved as board members or volunteers with their nonprofit organizations even after they graduate, leaving a lasting impact on the students, the organizations and the Houston community.
— Jenna Thomas '19
MBA Student