Thanks to a program that teaches students strategic planning, Rice University's Jones Graduate School of Business has been a leader in Houston's nonprofit community for the past 10 years.
The Capstone program is part of the core curriculum for professional MBAs in their last semester. Through the program, student teams are matched with nonprofit groups to solve such problems as how to grow an organization in three to five years to better serve its constituents. At the end of the course, the students present recommendations to the leaders of the various organizations.
More than 200 nonprofits in the Greater Houston area and beyond have worked with Rice business students. The nonprofits range in focus from education and early childhood development, health care, social services, arts, and environment and conservation. About 90 percent of those organizations have implemented several, if not all, recommendations received from their teams. Some of the organizations come back for another round after completing one set of strategic recommendations.
From the outset, student teams bring together classroom learning and experience into one high-impact project for the community. They fully assess their organization and develop multiple options for its future strategic direction before settling on one recommendation, which is then built out with detailed designs, financial projections, implementation plans and risk assessments. After the final presentation, the organizations can take the findings and hit the ground running.
Nonprofits interested in the program must apply and be selected. The comprehensive strategic planning by students is confidential.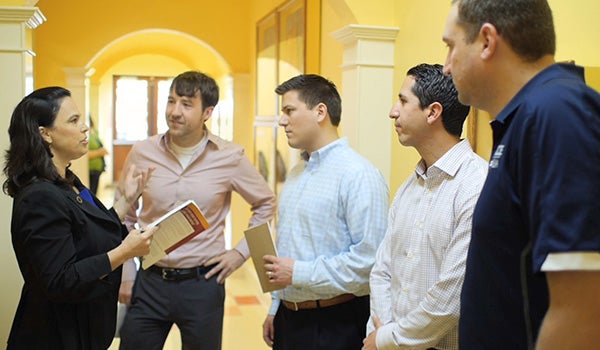 "We don't shy away from tough problems," said David VanHorn, professor in the practice of management and founder and lead for the program. "Capstone was not developed to focus on the narrow or tactical — it was developed to tackle the big and strategic and to make us a change engine in our community."
Aijaz Ali Khowaja, CEO of Ibn Sina Foundation, low cost clinics providing care for underinsured and low-income Houston populations, remembered his experience with Rice business Capstone students. "The teams understood the spirit of our mission," Khowaja said, "and crafted growth strategies and associated implementation plans that not only provided an actionable blueprint for our expansion plans, but also provided professional presentation materials that we used to procure a sizable funding grant from Houston Endowment."
Capstone also has a lasting impact on its Rice business students. They build long-term relationships with their organizations as they work closely and collaboratively for four intense months. Some students stay involved with their project organizations after graduation through service on the board of directors or other leadership positions. Some continue to support the organizations financially through galas and other fundraising activities. Others will move on to other organizations where their passions move them to serve in leadership positions. But all walk away from their Capstone experience with a new perspective on the impact they can have through service and leadership in their community.
For information about the Capstone program, contact VanHorn at David.vanhorn@rice.edu.