Can you make LEDs light up with Play-Doh and a battery? Can you see the difference between nano-sized particles and macro particles in sunscreen? Is levitation really possible? Can you make a bracelet to tell you when you need to apply sunscreen?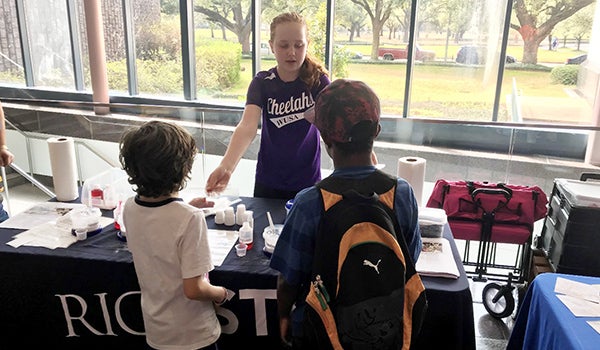 All these ideas have been explored by the Rice Office of STEM Engagement (R-STEM) team during the Houston Museum of Natural Science's annual programs. For the last 13 years in February, the museum has hosted the Girls Exploring Math and Science (GEMS) program at Rice with the Girl Scouts of San Jacinto Council. The event takes place in the Grand Hall of the Rice Memorial Center, which fills up with community organizations, including R-STEM, to present STEM activities and demonstrations to visitors.
In addition, the museum invites student groups to present projects relating to science, technology, engineering and math. The students create projects on topics like robotics, genetically modified organisms, renewable energy and biomimicry for the chance to win prize money to use for STEM programming or supplies.
This February, the winning group measured how well certain materials could block electromagnetic fields coming from cell phones and tablets. Their prize was $1,000, and they plan to use it for a trip to the Hill Country over the summer to look at indigenous plants and visit the state capital.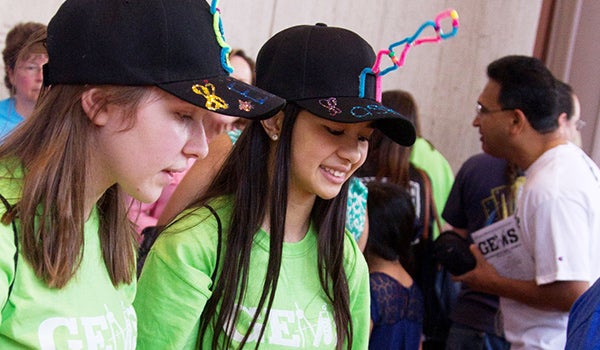 In the fall, the museum also offers STEM/Nova Day for Scouts BSA and Cub Scouts. One Saturday morning, the scouts are the first ones to arrive at the event, where the Grand Hall is transformed into hands-on science, technology, engineering and math exhibits of every kind. Scouts explore and ask questions of the STEM professionals to increase their knowledge of the STEM fields. For both of these annual programs, community members may attend the community booths for free.
R-STEM has been part of STEM/Nova Day and GEMS by hosting community booths with hands-on activities, such as creating hot and cold packs, interacting with UV light via UV-activated beads, exploring nanoparticles in sunblock and creating electrical circuits using Play-Doh. Local school teachers and graduate students at Rice help as volunteers at the R-STEM booth. R-STEM has coordinated further participation with Rice student groups, including Women in STEM and Nano Owls, and with Emilia Morosan, an associate professor of physics and astronomy, chemistry and material science and nanoengineering.
Over the past few years, these two community events have grown tremendously. With community organizations such as R-STEM, these events will continue to engage with Houston-area students and their families to increase their interest in STEM subjects and perhaps pursue a career in the field. The next STEM/Nova Day, will be Saturday, Sept. 21, 2019.
— Carrie Obenland Owens
Associate Director for Outreach and Research
Rice Office of STEM Engagement
— Kelsey Friedmann
Assistant Director
Youth Education
Houston Museum of Natural Science