Rice University has launched a laboratory where students work directly with external organizations to turn data into knowledge that can be used to solve real-world challenges.
Recent advances in technology allow for the collection and storage of massive amounts of data. Widespread availability of software has made it possible to perform advanced analytics with the push of a button. However, widespread availability of data and software does not mean that the value of data is automatically captured. The critical element is people.
"Data is everywhere, in seemingly endless varieties and massive quantities, but there's a critical shortage of people who are trained to turn data into actionable, useful knowledge," said Genevera Allen, associate professor and founding director of the Center for Transforming Data to Knowledge (D2K Lab). The key is to connect Rice students with people who have data challenges. Our students will not only gain invaluable experience and unique learning opportunities, they'll also make an impact by solving real-world data science problems."
The D2K Lab offers two courses for about 40 students and plans to expand within five years to serve up to 300 students and 100 on- and off-campus clients a year.
The lab provides courses, co-curricular programs and events focused on linking students with people who need help interpreting their data. In each of the lab's marquee courses, for example, Rice students work in teams to solve real problems brought in by clients. These people could be Rice researchers from any discipline across campus, Texas Medical Center researchers or medical professionals, community partners such as government agencies and nonprofits, as well as companies.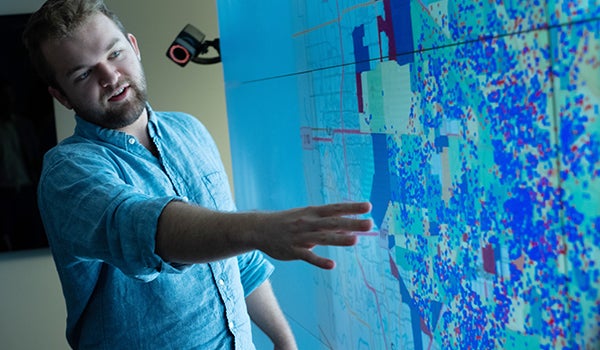 "The D2K Learning Lab has showed the Houston Fire Department how data can be applied to improve public safety services," said Leonard Chan, accreditation manager for the Houston Fire Department. "The students on the team not only have earned our confidence in their technical competence but have also impressed us with their leadership and initiative."
In one course, students participate in the D2K Consulting Clinic, a weekly walk-in clinic on Monday afternoons that is designed for smaller-scale problems that can be tackled in a few hours or a couple of days.
The consulting clinic has a mixed enrollment of graduate students and undergraduate upperclassmen. Allen said this mix of talent and training is one thing that makes D2K unique. Allen matches clinic clients with small teams of three to four students who are chosen specifically for each client based on their shared skills and areas of expertise. Clients meet with the team and discuss their problem, and the team delivers a report with a suggested course of action within a few days.
"The clinic experience is invaluable for students because they see a wide range of problems and clients," Allen said. "No two data science problems are quite the same, and clients can also be very different in terms of their expertise and expectations. The D2K Consulting Clinic teaches students how to analyze and solve problems as well as how to communicate those solutions to nonexperts."
Another course, the D2K Learning Lab, features in-depth, semester long or yearlong data science projects defined by the sponsor. Potential clients meet with Allen and D2K staff the preceding semester and pitch ideas for projects, which are chosen based on learning opportunities, skill sets and expertise of student teams and other factors. Allen said Rice has developed a sponsored research agreement so companies can sponsor D2K Learning Lab student teams and own any resulting intellectual property.
The D2K Lab also plans to offer a range of co-curricular programs, including a weekend Data-thon, distinguished speaker series, lunch and learn series, data-visualization contests and competition awards that will promote immersion in data science.
For more information about the D2K Lab, visit d2k.rice.edu.
— Jade Boyd
Science Editor
Public Affairs