Every 30 seconds, one American will be diagnosed with diabetes and another will suffer a coronary event. In underserved communities, the rates are even more disproportionate. This summer, Houston-area students came together to be a part of the solution.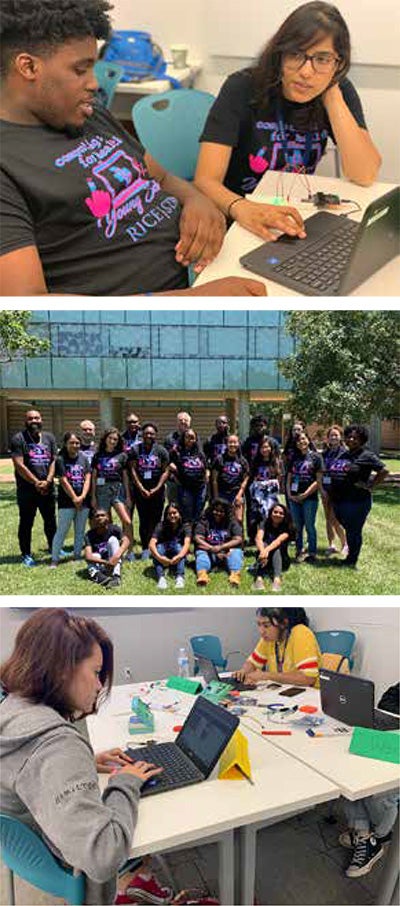 To engage high school students in science, technology, engineering and mathematics, the Rice Office of STEM Engagement (R-STEM) launched the Computing for Health Academy, which addresses diabetes and heart issues, and shows students how computer science can be used to improve the health of people in underserved communities.
Computing for Health is a four-day summer institute for students from eight local school districts. The institute took place at Rice, where 16 students worked with health care instruments to grasp the interconnected nature of STEM and how this knowledge could be used to benefit society. Students experimented, programmed and tinkered to gain a greater understanding of the changing path of medical treatments due, in large part, to computer engineering. The students were guided by university faculty, graduate students and six secondary school teachers from Houston ISD, Harmony Public Schools and KIPP Public Schools.
During the summer institute, students toured various campus buildings and facilities, speaking with Rice students about how students at the undergraduate and graduate level work together to solve problems using the engineering design process in various STEM fields. Off campus, students made the short journey to the Texas Medical Center to visit The University of Texas McGovern Medical School. Here, the students learned about academic requirements for getting into medical school and steps they can take to reach this goal.
Yongyi Zhao, a graduate researcher at Rice in electrical and computer engineering and computer science, discussed the ways programming will enhance the efficacy of health care tracking at home. In addition, undergraduate student Oluwapelumi Fafowora talked about his path to pursuing computer science as a major and about internships, college life and some interesting ways to use their skills to do useful projects.
During the 2019–2020 school year, R-STEM will host a series of after-school programs to continue to engage local students. Students will be taking a closer look at programming fundamentals to enhance their ability to tackle larger projects.
With the use of tools and programs, such as CS Unplugged, Code.org and TI-Innovator Hubs, students will have the opportunity to understand concepts such as data types, conditional statements, loops and functions. The plan is to have students use this knowledge to begin programming in Python.
This work was funded by the National Science Foundation's Precise Advanced Technologies and Health Systems for Underserved Populations (PATHS-UP) Engineering Research Center (ERC), whose mission is to develop advanced, cost-effective technologies to prevent, delay the onset, and manage diabetes and cardiovascular disease.
— Allen Antoine
Associate Director
Mathematics and Computer Science
Rice Office of STEM Engagement
— Christina Crawford
Associate Director for Science and Engineering
Rice Office of STEM Engagement
— Carolyn Nichol
Director
Rice Office of STEM Engagement