This summer Bryan Najera Demoraes discovered his mission in life. After completing a two-month internship with the nonprofit Latinos for Education, the Rice University junior realized that his purpose in this world is to help Latinos achieve positions of power.
"What this internship fostered in me is an awakening of the problem of Latino underrepresentation and a drive to tackle it," he said.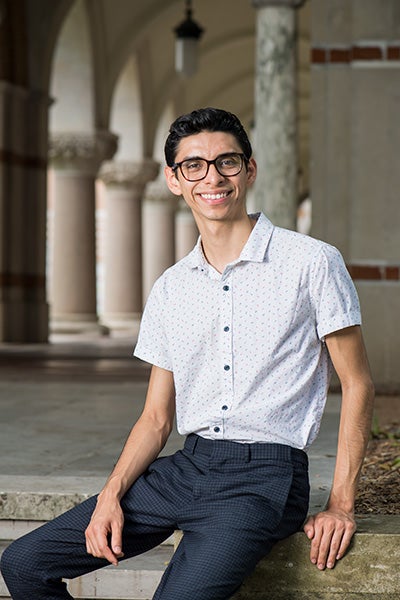 Latinos for Education seeks to "develop, place and connect essential Latino leaders in the education sector." The organizations has found that only 2% of leaders on education nonprofit boards are Latino and only 8% of senior education leaders in Houston are Latino.
As an intern for the nonprofit, Najera Demoraes worked on the organization's two signature leadership programs: The Latino Board Fellowship, which trains Latinos to serve on educational nonprofit boards; and the Aspiring Latino Leaders Fellowship, which helps Latino education leaders advance in their educational careers.
For the Latino Board Fellowship, Najera Demoraes helped develop the recruiting process and contributed to identifying qualified candidates. In its first year, the program accepted 10 Latino leaders from a wide-range of industries and trained them for six months to become an effective board member of an education nonprofit organization. The fellows were then placed on a nonprofit board that matched their preferences and skill sets.
Although Najera Demoraes worked on these two programs, it was his research for the organization that opened his eyes about the need for more Latino leaders. He did research on Latino representation of school boards in the five largest counties in Texas: Harris, Bexar, Dallas, Tarrant and Waller. He specifically looked at the ratio of school board members to Latino students.
"If the whole board is Latino and the entire student body is Latino, that makes sense," he said. "But if half of the student body is Latino and there are no Latino school board members, I find that very interesting."
He found that some school districts, such as San Antonio Independent School District had representation on their school boards that was on par with their Latino student body. The largest school districts — Houston ISD and Dallas ISD — also have representation on their school boards that is on par with their respective student populations; however, there are districts in the region that severely lack Latino representation, he said. In Spring Branch ISD, for example, 60% of students are Latino, yet there aren't any Latinos on their school board.
"I was shocked to learn that the Greater Houston area has 600,000 Latino students and that Latinos makeup 60% of HISD," he said. "I underestimated the power of the Latino voice."
Yet that voice has largely gone unheard, he said. "To tackle underrepresentation you have to empower Latinos to believe that they can have a say in their society, whether it is in government, business or health care," he said. "Many Latinos feel they don't have a say, so they feel disengaged."
Another way to address this problem, Najera Demoraes asserted, is to acknowledge that the immigrant community has a lot to offer to this country. Immigrants, he said, bring a lot of resources with them and society should help them move up and benefit from their talents and energy.
Najera Demoraes knows about the immigrant community firsthand. His father came from Mexico and his mother from Brazil and they met in Houston by attending the same church. The family eventually moved from Houston to Crosby, where Najera Demoraes finished high school and then became the first one in his family to attend college when he enrolled at Rice in 20
His interest in the education of Latino immigrants led him to sign up for the Alternative Spring Break LatiNo BARRIERS: Immigrant Dreams, which took a group of undergraduates to Miami to examine the social issues affecting the Latino community. Najera Demoraes said by meeting with leaders of cultural and educational programs, he was able to see the strengths of the immigrant community, but also detected how immigrants were systematically denied their rights.
"Bryan was a big contributing member of the group," said Serene Chen, site leader of the Alternative Spring Break. "His empathy for the populations that this issue affects frequently shone through when he contributed in a group discussion."
One thing that Najera Demoraes learned is that sharing power is crucial for the advancement of the Latino community. "I think the greatest exercise of power is when you give up your power," he said. "You realize you have had it for so long that maybe it's time and beneficial to give it to someone else. It doesn't have to be random. It can be someone you are mentoring so that they can continue with the fight that you have invested in."
For example, he said, his supervisor, Andy Canales, executive director at the Latinos for Education has become his mentor. "I'm thankful for him for using his power and sharing it with me," he said.
Canales said that Najera Demoraes was a pleasure to work with and contributed to making his organization stronger and better. "Bryan's commitment to our work stemmed from his own journey in developing his Latinidad (Latino identity). This allowed him to invest genuine time, energy and interest in our work. The fact that he is aware of the issues and focused on being part of the solution leaves our organization with a sense of hope and excitement in knowing that he will be impacting this work beyond the internship."
Najera Demoraes is majoring in political science and Latin American studies. He plans to become an immigration lawyer so that he can help Latino immigrants advance in their civic engagement and take part in the power structure of their communities and beyond.
"My ideal future is a celebration in which we can see color and culture as assets and important to society," he said. "In a way, I would like to have a fiesta at the end of this struggle to celebrate our differences yet unity. Let's have some fun at the fiesta, then a quick siesta, and then get back to work."
— David D. Medina
Director
Multicultural Community Relations
Public Affairs